David and Carol Nims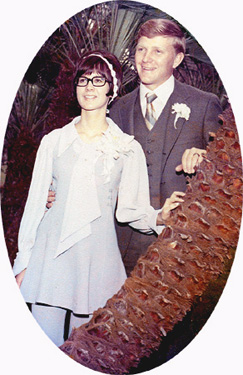 David John "Dave" Nims, son of Frank and Betty Nims, was born in 1944 in California. During Dave's early years, his father was in the Air Force, and they were transfered to many locations across the United States, including California, Alaska, Massachusetts, Washington, Alabama, and Idaho. When Frank retired, he bought a farm in Oregon, where Dave lived and worked until he finished high school.
Dave attended Oregon State University, graduating with a B.S. in Physics in 1966, then attended graduate school at the University of Arizona in Tucson, graduating with his M.S. in Physics in 1969, after taking a year off to man a cosmic ray research station in the Antarctic.
Upon graduating, Dave joined Goodyear Aerospace in Phoenix, where he worked for 10-years in various roles, primarily involved with terrain imaging radar systems and laser film recorders.
Elaine Carol Nims, daughter of Fred and Irene Leistiko, was born in 1945 in Montana. She grew up in Cutbank and Malta, Montana, and attended Montana State College, graduating in 1967 with a B.A. in Commercial Art. Carol moved to Phoenix, and joined Keyes Art Service, where she was working when she met Dave.
Dave and Carol met through a friend of Dave's at work, who had gone to school with Carol in Montana. They married in January, 1970. Carol continued working full time until they had their first child, and continued working as a free-lance commercial artist for several more years. However, the family was blessed by Carol being able to primarily function as a stay-at-home Mom during the years when the children were at home. Dave and Carol and have three children:
| | |
| --- | --- |
| Kristine Elizabeth Nims | Born in 1970. Kristine married Lee Hoggatt, and has one child, David Lee Hoggatt. Lee and Kristine were divorced, and she is now raising David as a single mother. After her divorce, Kristine attended Seattle Institute of Art, where she graduated with a degree in commercial art. Kristine worked for many years for BCRA, a large architectural firm in Tacoma, Washington. She started as a contract designer. Over the years she gained responsiblity, and when last with BCRA she held the joint positions of Art Director and Director of Marketing. She then decided to make a career change and went to nursing school. She now works as an ER nurse in St. Clare Hospital in Tacoma. Kristine loves the water, and lives at Salmon Beach , 80+ homes built on pilings over the water on Tacoma Narrows, down 200+ stairs from the parking lot. |
| Brian David Nims | Born in 1973. In 2006, Brian married Tyler Mason. Tyler had a daughter, Payton. Brian and Tyler expanded the family with a daughter, Addison, and in 2010 a son, Beckett. After attending college at Virginia Tech, Brian served in the Air Force. When he left the Air Force, he also joined BCRA, as its Manager of Information Systems, and held this position for several years, while also serving in the Air Force Reserves. After 9/11 Brian transferred to the Air National Guard, and trained as an Air Battle Manager. Brian, then a Major, left BCRA for full-time employment with the Air National Guard, which operates a facility at McChord Air Base for NORAD CONR. The North American Aerospace Defense Command (NORAD), Continental Region (CONR) provides airspace surveillance and control and directs air sovereignty activities for the continental United States. After completing an on-line course in 2009 resulting in a Master's Degree in information systems, Brian again transitioned to normal Guard part-time status, and joined SAIF in Salem, Oregon, as a Senior Business Analyst. Brian was recently promoted to the rank of Lt. Colonel in the Air National Guard. |
| Jana Irene Nims | Born in 1983, Jana attended Northwest University and graduated as a Registered Nurse in 2006. Following graduation Jana worked as a nurse in the of the University of Washington Medical Center in Seattle. Jana married Jonathan Suomi in 2008. Jon and Jana have a 4 daughters: Evelyn, Liberty, Lucy, and Jubilee. The family currently lives north of Sandpoint, ID. Jon and Jana have a small business buying discounted items locally and reselling them on Amazon. |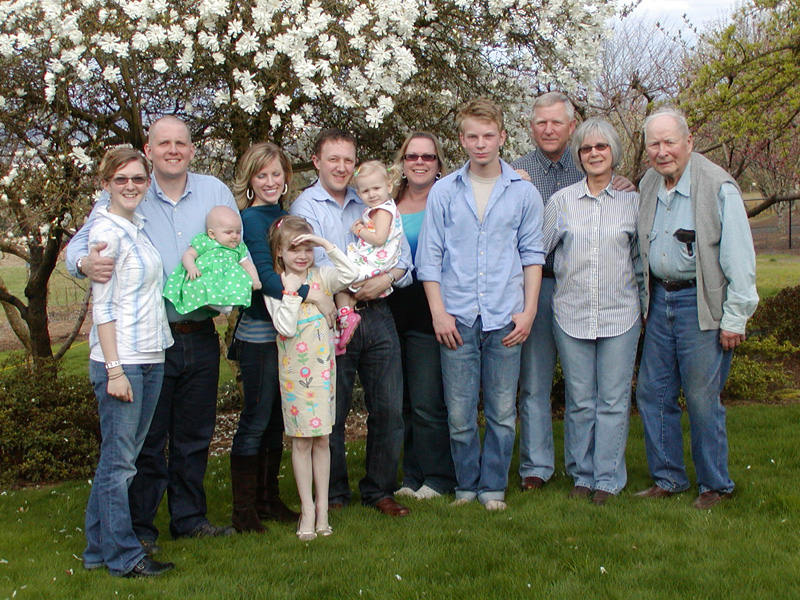 Here's a picture of our family taken in the spring of 2009. From right to left, my Dad, Frank Nims (now 98), Carol and I, Kristy with her son Davey Lee, Brian with wife Tyler and their 2 daughters Payton (eldest) and Addison (they now have a newborn son Beckett), Jana and her husband Jonathan and daughter Evelyn (they have two younger daughters, Lucy and Jubilee).
During Dave's working career, he served in various capacities, in engineering, project and engineering management, sales and marketing management, and corporate management. His career took him from Phoenix (Goodyear Aerospace), to Vancouver B.C. (MacDonald, Dettwiler & Associates), to Andover, Massachusetts and Portsmouth, New Hampshire (Optrotech, Inc.), and the Seattle area (ScenicSoft, Inc. and Idanit). After a brief (and unsuccessful) attempt at starting his own business, Dave retired from the high-tech world. A volunteer job at WorldVision, U.S. in Federal Way, WA, transitioned into a full time position managing WorldVision's car and boat donation program. During his tenure, Hurricane Katrina hit and Dave initiated a program providing donated cars, trucks, trailers, and motorhomes to Katrina victims. When tax laws were changed such that car donations were no longer a a vaible means of fund raising, WorldVision discontinued the car donation program.
In 2005 Dave and Carol moved to Sherwood, Oregon. In Portland, Dave volunteered for RAINS, a non-profit involved in emergency Internet communications, active in the area of Homeland Security. Dave soon assumed the position of Executive Director of RAINS, where he served until the business of RAINS transitioned into a commercial enterprise. Dave is now retired, but keeps busy with investments, with maintaining the family's garden, orchard, and vinyard, and still enjoys hiking. He also maintains a webpage for Margaret Nelson, a missionary in Uganda, and a website containing the geneaology and history for his and Carol's extended families (very extended!).
Carol easily made the transition from Mother to Grandmother, and this is now the focus of her attention. She is also an active volunteer for Faith in Action, a national volunteer movement that brings together church congregations from many faiths, government agencies, and local community organizations to help senior citizens who are elderly or living with chronic health conditions maintain their self esteem and independence by providing them service at no charge.
Carol and Dave are both committed Christians, and are blessed in that all of their children and their families are as well.
---
First published: August 30,2001. Last revised: January 27,2016.