Ministry of Margaret Nelson
Uganda, Africa
---
August 17, 2005
Team Ministry
After nearly 3 action packed weeks, the missions team from New Life Center Foursquare, Everett, WA, is now on their way home. This team was the fruit of many months of prayer and planning. They have left a big impact in Uganda.
In the first week they were here, the team of 7, plus 3 of us from Uganda, traveled several hours north of Luweero up to the town of Gulu, in the war zone. They were the first Foursquare team to go to Gulu. In spite of the negative news reports that circulate globally about Gulu and the nearly 20 year rebel war in northern Uganda, we were pleasantly surprised to find Gulu to be an active, busy town. There were certain safety restrictions of course, and Gulu is surrounded by numerous Internally Displaced People (IDP) camps for the many people who can only live and farm in areas protected closely by soldiers. But life goes on in Gulu, and we were able to freely minister and teach in the church there, in schools, and in several of the IDP camps.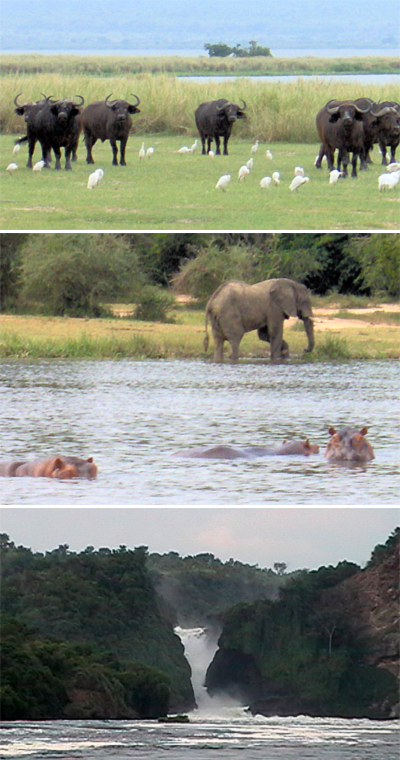 Nile River trip in Murchison Falls National Park
Top: Water buffalo and egrets
Middle: Elephant and hippos
Bottom: Murchison Falls
On our return to Luweero from Gulu, we stopped overnight at Murchison Falls National Park to relax a bit. We took the 3 hour boat trip up the Nile River to the falls and back, seeing much of Uganda's beautiful wildlife, both on the shores and in the river. Hippos by the hundreds watched us, some diving, others blowing jets of water as they surfaced. Water buffalo stood patiently, egrets and other birds riding about on their back. Two rare shoebill storks ignored us as we passed by their reed sanctuary in the middle of the river. And of course there were many huge crocodiles to be seen, mouths wide open, cooling themselves in the hot tropical sun. The falls were spectacular as the water of the Nile River is forced through a narrow chasm and drops several hundred feet. On our return downstream, we watched a huge bull elephant at the water's edge ripping tall, green grass with his trunk, stuffing it into his mouth.
The following week, several teachers on the team taught our first ever teachers' conference for the 14 teachers of our 2 primary schools that we started in February, Kasana Kids Club Primary School and New Life Academy. They were able to teach them some teaching theory and methods that opened new doors for them. The team also encouraged them with testimonies of how teachers had impacted their own lives in life-changing ways.
In Gulu and all of northern Uganda there is a war going on. But 20 years ago there was a civil war going on which centered in the Luweero area. There are still hostile feelings between the tribes in central Uganda and the northern tribes because of that war. Therefore it was unusual for people in Luweero to want to accompany the team up to Gulu. Seeds had been sown 2 years ago for this to happen, so we were blessed to have Hannington Serugga, founder of our Samaritan Emergency Volunteer Organization (SEVO), and Pastor David Kasule, founder of our New Life Kids Club orphan and school projects, come to Gulu to minister. Hannington taught some introductory classes from SEVO in schools and churches, and has been invited back to do further training. Before God did a work of forgiveness in Hannington's life, it may have been easier for him to want to kill people in the north, but instead, he was teaching them life-saving techniques.
For Pastor David, it was not so easy. As we traveled north, once we crossed the Nile River, about an hour south of Gulu, he began to hear the local tribal language and felt like he was in enemy country. War memories began to flood his mind and he found himself full of hatred. But on the second day in Gulu he preached a strong message on forgiveness and reconciliation. His own heart, as well as those of his former enemies, were very touched. By the last day in Gulu, his heart was broken with love for the people of the north, and it showed in his ministry to them. He was asked to return to Gulu in December in order to do more teaching and speaking to the churches there.
Once we returned to Luweero, in addition to the teachers' seminar, the team ministered in several village churches. In each place, David shared his testimony of what he'd been through in Gulu. God spoke to hearts and lives of Luweero people in the way He had touched David's life with forgiveness to their enemies to the north. As none of us Americans could do, David could speak to their old hatreds, and of his new level of forgiveness and personal healing.
We send our deepest thanks to New Life Center Foursquare, and to the team they sent to minister in Uganda. We know that not only did they participate and encourage our seedling ministries in both Luweero and Gulu areas, but they planted seeds of their own in the very people we love and work with. God will bring the harvest of those seeds in His timing, and Eternity will know the full measure of their ministry and the prayers of those supporting them back home.
Margaret Nelson