Ministry of Margaret Nelson
Uganda, Africa
---
August 28, 2005
Samaritan's Heart
On August 25th the Samaritan Emergency Volunteer Organization (SEVO) had its first official graduation of students having completed the first 2 phases of training in emergency first aid and rescue. These graduates were from the 2 districts of Luweero and Kampala. Over 30 more SEVO students traveled about 150 miles from Jinja district in a bus provided for them by their local government officials, and 2 came from our newest SEVO group at the Nakatonya Internally Displaced People (IDP) camp near Soroti, a 7 hour trip by bus. The visiting students assisted financially in some of the preparations, and made observations in preparation of their own coming graduation ceremonies.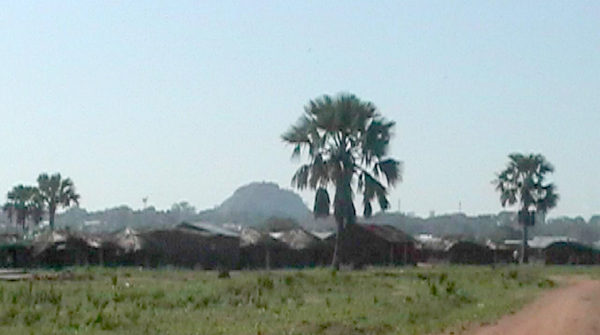 Nakatonya IDP camp near Soroti, with rock hill in background.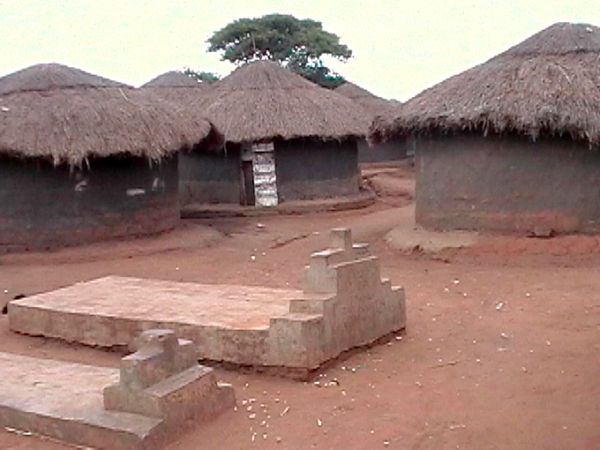 Pabbo IDP camp near Gulu.
The team spirit of the SEVO groups is a wonder to behold. Its members come from all tribes, religions, and walks of life. We have Muslims, Pentecostals, Seventh Day Adventists, Catholics, villagers, town people, city people, and university students. Yet all are united in their desire to help their fellow man. Accidents are one of the biggest causes of death in Uganda, which has the 2nd highest rate of traffic fatalities on the African continent. In addition to traffic accidents are the common village problems of kids falling out of trees, snakebite, and burns from cooking fires. And of course the people from the IDP camps have seen the ravages of war, bullet and knife wounds, amputations from land mines, rapes. Even if the SEVO members don't know what to do in a given situation, their education has given them courage to intervene while others merely walk past, clicking their tongues at someone's misfortune.
Being a volunteer group and still relatively unrecognized in the country, SEVO has no funding. So all of the participants in the graduation had to pay their own way. They paid for transportation, for the cost of printing their certificates, for SEVO T-shirts and hats. Not all were able to pay so they graduated without. They had to pay to put on the graduation itself. One village, Kikunyu (chee-koon-yu) where a Muslim man recently donated 2 acres to SEVO, and donated the poles for the shade needed for seating the crowds and guests. Somehow they got together gas money for someone with a pickup who went to the remote village to gather the poles and bring them to Luweero. Others donated tarpaulins to put over the poles, completing the shade. A nearby school donated the use of benches for seating people. Some money had been promised that did not materialize, so the planned parade through town had to be cancelled, and there was last minute panic about how to get a much needed sound system.
SEVO members from all over Luweero district worked so hard to bring their graduation to pass. The ceremony was so late starting that the government guests of honor (who always come late) began to come, and were surprised to see that the meeting place was still being put together. One of them then contributed money for renting a sound system, and the problem was solved. Incredibly, all of the officials who were invited, came. These were high level government people, both local and national. One was a Parliamentarian. The keynote speaker was the Minister of Defense. We pray that these contacts will assist SEVO further in its plans to register on the national level, and to eventually obtain needed medical equipment, communication, and transportation systems for members and victims.
Kikunyu village is very remote from Luweero, so it seems an awkward place to have land being donated for SEVO use. But the SEVO members there are so full of team spirit that there is no doubt of SEVO becoming a big part of their community. In addition to their donating the poles for the graduation ceremony, they also donated funds and used their own personal money for transportation. They also brought food to cook and feed the visitors from Jinja and Soroti. One of our next SEVO projects is to clear that 2 acres for use, dig a pit for the latrine, and put up a temporary pole and thatch roof building. Then the first SEVO workshop for the village will be held there. Members are traveling from Kampala and even from Soroti in order to assist with the clearing of the land.
After the graduation ceremony, I was talking with the 2 men who traveled all the way from Soroti. We had a long discussion about the program and its ability to touch the hearts and lives of people in our communities, and especially in the IDP camps where people have suffered so much violence. Soroti is located in northeastern Uganda where the land is wide and flat. But there are huge stones that jut up out of the ground in various places. One of the men said to me, "If we keep SEVO quiet, the very stones around Soroti will cry out."
My heart was touched as I thought of how Jesus said the same thing, that if the people worshiping Him were silenced, the very stones would cry out (Luke 19: 39-40). I thought of how my own concept of the church has been expanded in Africa. In the USA we are forced to separate "church and state," which has caused us to compartmentalize the various facets of life: if your body hurts, you see a physician, if your mind hurts, you see a psychiatrist, if your soul hurts, you see a priest. But as is being recognized in holistic circles, man is not a collection of separate entities. He is an integrated being. Much of what Jesus did could be classified as "social work," or "socializing." He often dealt with people's physical problems before dealing with the spiritual.
As we minister to people's apparent needs, whatever they are, we gain headway into people's hearts and souls, which are so often closely guarded. As SEVO people are learning the joy of serving others, I can see God using it to give people a fresh view of His heart. Loving our neighbor as we love ourselves. The Samaritan's heart.
PRAYER REQUESTS FOR SEVO:
Upcoming Phase 3 training of trainers by Greg Matthews, EMT, in October;
Upcoming training of medical doctors to provide backup trauma care to rescued accident victims;
Government assistance with physical needs;
300,000 shillings ($175) is needed within the next 2 months to pay for the title transfer on the Kikunyu 2 acres;
Transportation for members and for accident victims, from bicycles to motor vehicles;
Communication, office, and supplies;
National registration, which is held back by funding needs and corruption.
Margaret Nelson
Hannington doing SEVO demo of emergency 1st aid.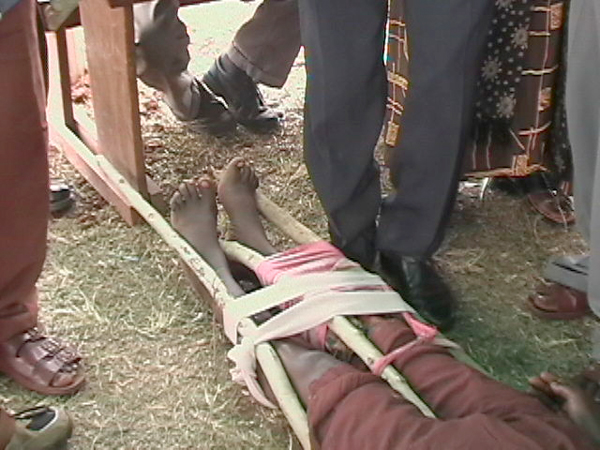 SEVO rescue drama, using local materials for splints.