Ministry of Margaret Nelson
Uganda, Africa
---
September 6, 2005
Prayer requests and answers
Hi Everyone:
I want to update my prayer requests and answers for you. Please rejoice with me for the answered prayers and continue to pray for the unanswered one!
4/05 (after my truck wreck) - I hope to have my pickup back in a couple of weeks or so, (didn't happen!) and that will simplify my life again so I don't have to rely upon other people or public transportation to get around. So please pray: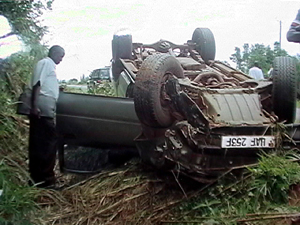 Truck wreck on March 30, 2005. I came out the opened door. The man standing is Pastor David's brother, who was riding in the back seat.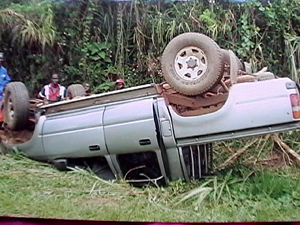 David was pulled out thru the front window on this side. He was pinned in by his leg, but uninjured.
Prayer
Status/Answers

That my truck will be totally dependable after repairs.

For God to provide the costs of the repairs.

I am still in need of about $2500 to rebuild the engine and finish the repairs.

That our school kids will do as well on their exams as we think they will.

Some did well, some did poorly, but it gave us the info we needed to see where the kids are at, having come from different schools last year.

That God will guide us in the selection of new teachers as our enrollment expands for both schools next term (starts in May)

We have replaced the teachers who didn't work out first term. Now we are looking to have to hire more, as enrollments increase, for the 3rd term, starting 9/12.

That the Enemy's plans to thwart our ministries to the community, through churches, orphan projects, and schools will be completely foiled.

And as I always ask, continue to pray always for our daily safety.

This has been especially needful the past month or so - keep praying for us!

Upcoming events to pray for also:

In mid-June my daughter and grandson, Angie and Joel Clarkson, will be flying to Uganda to visit me for 3 weeks.

They came and went - had a great time!

In late July, a team from New Life Center, Everett, WA, will be coming for 3 weeks of ministry to our schools, teachers, the educational community in Luweero. We will also be traveling up to northern Uganda to minister in the war zone.

See the newsletter for this wonderful time - good reports still coming in, both from villages and from team members!

In the fall, Greg Matthews, EMT, is planning to return to teach a 3rd phase of EMT training to our SEVO leadership.

Tentative plans are for him and a paramedic friend to come 10/29 for 2 weeks.
5/19
| | |
| --- | --- |
| 1.&nbsp | My neighbor Kyeyune got himself into some trouble with the law last year, and has had to spend most of the time in another part of Uganda, avoiding arrest. This means his wife and 5 or 6 kids are living alone, and their cost of living has increased with Kyeyune having to maintain 2 households and travel back and forth. In order to be free from the fear of arrest, he has to come up with 400,000 shillings, or about $230 - when the per capita income is about $300/year. Most of all, he needs to be saved. He's attending our weekly prayer meeting when he's here, but has not yet committed his life to Jesus. He cannot earn money when "on the run", and prison would mean hard labor for several years and even more hardship for his family. Pray: |
| | Prayer | Status/Answers |
| --- | --- | --- |
| | | |
| | For financial provision for this need. | He is back home now, and it seems the financial demands upon him have died down because of his total inability to pay. He gives credit to God for this. |
| | |
| --- | --- |
| 2.&nbsp | Pastor David has been paying school fees for orphans by faith for 3 years now. This has been 100% by faith; he does not have sponsors for the orphans. So he's had running accounts with the schools, paying fees as God supplies the money, and the schools were mostly contented to do this. But since he started the 2 new primary schools in Feb, the orphans as well as paying students attending them, these town schools are losing students to him, and are very jealous. As a result, they've apparently banded together to collect what remaining back school fees he still owes them, and it seems the police are looking to arrest him. Standard procedure here is "pay now or go to prison." There were no contracts, this was only a service David was providing for the community, and there is no proof he even owes money, and we know for a fact the amounts have been inflated. The police will not even give time for him to work on getting the money, they'll just put him in prison until the money is paid… How? They don't care. They have told him, "Because you're a Christian, you have to pay." David is the most discouraged I've ever seen him! This is one of many attacks against this ministry, so please pray: |
| | Prayer | Status/Answers |
| --- | --- | --- |
| | Against the wiles of the enemy, seeking to destroy this ministry. | Again, an ongoing battle! |
| | For financial provision to pay the actual debts | The case was dropped and the harassment stopped, because there was never a contract between him and the schools. |
| | For safety for David and those of us involved. | A real need, because there have been indicators that there are threats to David's life. |
| | For safety and provision for his family. | |
| | That he won't be arrested! | |
| | Pray for David's struggles with depression lately. | |
| | |
| --- | --- |
| 3.&nbsp | As mentioned in my last newsletter, Sosten, brother of Pastor Ezira, owes 200,000 shillings ($115) to a "developmental" NGO, and because of his extreme poverty, he's not repaid it. Police have arrested at least 6 in his area for non-payment so far. Sosten has no family or other resources to help him out if he gets arrested. Again, if he's arrested, it means hard labor and increase of hardship to his already struggling family. Pray: |
Prayer
Status/Answers

That he won't be arrested

Hasn't happened, but God has kept him safe so far.

For the ongoing drought/poverty situation of his extended family and village

Keep praying on this one.
8/5 - PRAYER REQUESTS FOR SEVO:
Upcoming Phase 3 training of trainers by Greg Matthews, EMT, in October.
Upcoming training of medical doctors to provide backup trauma care to rescued accident victims.
Government assistance with physical needs.
300,000 shillings ($175) is needed within the next 2 months to pay for the title transfer on the Kikunyu 2 acres (we are hoping that the SEVO students themselves will be willing and able to pay this fee)
Transportation for members and for accident victims, from bicycles to motor vehicles
Communication, office, and supplies
National registration, which is held back by funding needs and corruption
(Also pray for an upcoming seminar at Kikunyu, starting 9/12. We are going to be having work days to build a temporary structure, latrine, etc. on this land, and then we'll have community health classes in the afternoons.)
Margaret