Ministry of Margaret Nelson
Uganda, Africa
---
November 27, 2005
Storm Clouds
I watched the elderly Congolese woman stretching her hands out towards heaven, interceding before God with tears pouring down her face. She appeared to be soaking up the presence of God. Her face was upturned and quiet. She was one of many Congolese, Rwandese, and Ugandan peasants that worship in this church. We were praying for the peace of Uganda. This woman had been driven from the country we now call Democratic Republic of Congo in the post-independence violence of the 1960s, becoming a refugee in Uganda, where she met and married her husband in Kampala. They established a family here, only to be driven back to Congo during the civil war in Uganda. After that war, further bloodshed in Congo drove them back to Uganda once again.
Now with great clouds of political unrest threatening the peace of Uganda, this woman and the others who all have similar histories, were seeking God with all their hearts to stave off further war, to cause the peace of God to rain down instead.
On the 14th of November, a former presidential contender (2001), Col. Kizza Besigye, who had returned from exile, was arrested on charges of treason, concealing of treason, and rape. This triggered 4 days of riots in Kampala and much unrest in other towns. On Thursday, the 24th of November, Mr. Besigye was taken to High Court for his bail hearing, and to Military Court for a court martial hearing. The area around the High Court was closed off. Police and military soldiers were in force all over Kampala and in other towns, the gatherings of 2 people or more being dispatched. Mr. Besigye had returned to Uganda to register in time to contend again for the presidential election in March 2006. His treason charges indicate that he has been working with several rebel groups, both out of and inside of Uganda, planning to overthrow the Ugandan government. (See www.newvision.co.ug, November 20th)
There have been many accusations of political suppression of opposition, intimidation, and so on, so there is a sense of lawlessness and extreme tension these days. Outside of Kampala, there are security roadblocks on the highways. In my area of central Uganda, the Luweero area, 50 miles north, the political climate is more calm, but I must monitor what's happening in Kampala before each trip that I make.
Please pray for peace in Uganda. There is much confusion, testing of the Constitution in this young democracy, rebellion, and disruption of jobs and ministries. Presidential elections take place in March 2006 with other national and local elections following over the course of the year.
Margaret Nelson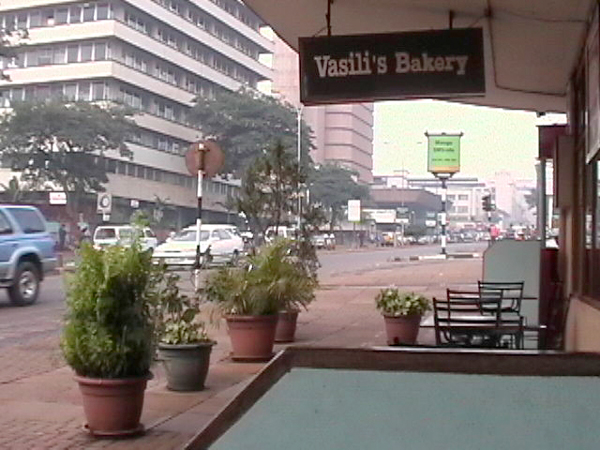 A peaceful Kampala.