Ministry of Margaret Nelson
Uganda, Africa
---
August 21, 2006
Pastor David Imprisoned
Since my recent newsletter regarding New Life Academy and its progress in my absence, the founder and director of the school, Pastor David Kasule, has been arrested and imprisoned in Kampala's big government prison. The background for this arrest is as follows:
Last fall, David stepped out in faith for the need of the school to have a van for transporting the school children back and forth. He'd been using an old pickup for this, but it was not very safe to haul kids crowded in the back, and they were unprotected in our frequent rains. David made a donation to a USA ministry, and within 3 weeks God met him. He was given a tithe of someone's property sale that amounted to 5 times the amount he had donated!
Pastor David Kasule with NLA kids in their old pickup.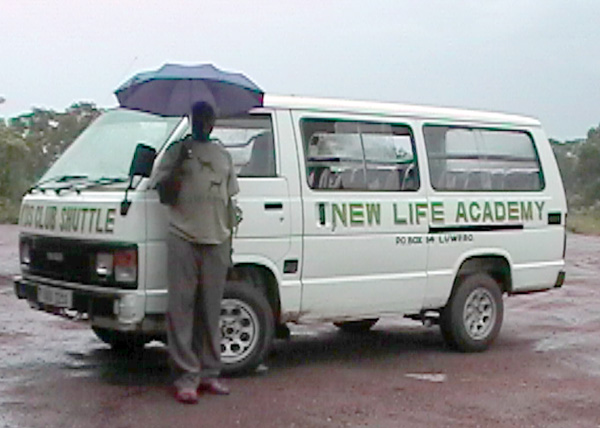 New NLA van
So David used that money to buy a used van from a Christian friend of his for the school. David took a mechanic to examine the van, which his friend had said was in excellent condition, but apparently the mechanic was bribed to lie about its true state. David bought it, with a balance owing to be paid over the following 3 months. But it took him 6 months to come up with the money and to have all the necessary repairs made to the van which was actually a real wreck. The balance therefore was not paid, and David met a threat to sue him for it, with a countersuit. The van was sold to him under false pretenses.
Long story short, David was arrested for not paying off the van. Legitimate court and arrest processes were not followed, but nonetheless, David was sent to prison for 6 months or until the debt be paid. This was in spite of the fact he has a countersuit on file. We did learn during the court hearing that even though David had filed both his defense and countersuit, he had not paid the filing fees, which now have been done. Even so, the court refused to consider this and still sent him to prison.
Our lawyer is working to try to get him released within the next week or so. Please pray with us:
For David's physical and spiritual strength (his spirits are high now that the shock has worn off - we're excited to see what God is going to do!)


For needed finances for his legal costs


Against corruption on all fronts, in the legal system


For the "Christian" seller to be truly convicted by the Holy Spirit for what he's done and is doing


For all those of us involved, both in the court settings, for the school, for David's church, and most of all, for his family. We have been organizing to care for everything in his absence


That all these things will prove to be a testimony to the community, both in Luweero, in the prison, and in the courts.
Thank you for praying!
Margaret Nelson