Ministry of Margaret Nelson
Uganda, Africa
---
November 24, 2006
From Hut to Heaven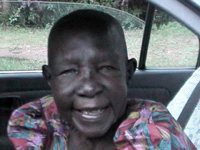 Nataliya Kafeero
Nataliya Kafeero came to be a part of my African "family" about 3 years ago. Since keeping records of births is a fairly recent practice, no one knows how old she was; we estimated she must be somewhere in her 80s. Nataliya had no family, a rare state in Africa. She'd never married, never had children, and no one knew of her having any other family. Where she was living in my village, children had been tormenting her, throwing rocks on her tin roof, and otherwise harassing her, making her life miserable. So some friends, knowing I had a tiny dirt-floor, one-room shanty on a corner of my land, asked if I would consider letting her live there. After giving it some thought, I agreed to let the old woman live there.
I didn't meet Nataliya for a few weeks after she moved in with her meager possessions. She only had one dress, so she was ashamed to come and meet me, not having a nicer one to put on. But she began to putter around in my large garden, weeding, and eating out of it. Eventually she did come and meet me. She became friends with all of us around my place, and we grew to love her. Eventually I had a cement floor put in her little house, and the sagging door fixed. Then we rebuilt her mud latrine to make it safer for her. And when she could, she'd walk about a mile down the highway to attend services at pastor David Kasule's church on Sundays. Nataliya had come to accept Jesus as her Savior maybe 6 or 7 years before, through Pastor David's ministry.
One day she timidly sent me a message, asking if I could maybe give her 2,000 shillings (about $1) so she could buy some meat to eat. She was doing a lot of work in my garden, the lighter work that an old woman could manage, so certainly I could buy her some meat. I did not charge her rent, but I began to give her a small "salary" for working in my garden so she could buy soap, meat, and other things she might need.
A little over a year ago, we noticed Nataliya's hearing rapidly diminishing, and then her mental capacity also. She was no longer able to use the hoe in the garden, and she stopped buying soap to wash her clothes. She became very dirty, and soon became incontinent of both bowels and bladder -- a very difficult situation where there is no running water or indoor toilet. We also noted that her extremities were becoming swollen. So I hired a lady to bathe and clean her up, some other friends cleaned her little house, and we took her to the local missions hospital about 15 miles away on a dirt road.
Nataliya remained hospitalized about 6 weeks, and during that time was taken twice to Kampala's big government hospital for echocardiograms. We learned that she had a rheumatic heart with valve damage and was suffering from congestive heart failure. She was put on appropriate drugs and recovered sufficiently that we brought her home last January. She had lost her ability to walk, but incredibly, had regained her mental capacity, and her bowel and bladder control as well. I hired a lady to care for her, cooking, giving her medicines, and bathing her, but she began to go downhill once again. At the end of about a month, we discovered that the woman caring for her had not been giving her her medicines, had probably taken them and sold them! So that lady lost her job, needless to say, and when I took over administering Nataliya's drugs, she perked right back up. The whole neighborhood was amazed at what care and medicines could do for someone so old, someone that everyone had expected would just die.
Indeed, none of us really expected Nataliya to live much longer after she went to the hospital. So after she came home to us, if Nataliya wanted a Coke, we bought her a Coke! If she wanted a pineapple, we bought her a pineapple! I said that she wouldn't be with us much longer, so it was our job to meet her every need and make her last days as happy as possible. I gave instructions in case she were to die in my absence while I was in the USA for 3 months on furlough, but she continued to live on -- and to thrive! By the time I got home to Uganda in August, Nataliya was caring entirely for her own needs, even though she still could not walk. She would cook on her charcoal cooker out in her yard, and crawl around on all fours to pick some vegetables or use the latrine. Since a village path passed in front of her little house, she would have many visitors to chat with as well.
Nataliya would make fires inside her door at night, her old bones suffering from the cold when she slept. So her house became full of ashes and dirt. So about a month ago, I had someone come and clean the house out completely. A neighbor lady bathed her, we borrowed a nice dress for her, and before taking her back to the hospital for a checkup, Pastor David took her to a barber in Luweero to have her fuzzy gray head shaved. Then he took her to a beauty shop where they scrubbed her scalp really good, and where by virtue of her great age, she drew a crowd. (Average life expectancy in Uganda is 41 years.) She enjoyed it all to the maximum, and when David took her to the hospital, she got to go around in a wheel chair and visit all the nurses, her own caretaker while there, and other chronic patients she'd come to know last year. A great time was had by all! (See photo of Nataliya on that day, on my web site.)
Then just 2 weeks later, after cooking and eating her beloved meat, some from us and some a neighbor had brought her, chatting with friends, Nataliya went to bed for the last time. In the morning when we went to give her her medicines, we found her still lying in bed, blankets up to her shoulders, to all appearances asleep on her side… but stiff and cold. Nataliya had gone to sleep in her tiny house and woke up in her mansion in heaven.
In Uganda people are generally buried in a family burial ground in their village of origin. During Nataliya's hospitalization last year, we'd learned she did have some distant and uncaring relatives whom we'd contacted at that time. So by law and tradition, we had to again contact them, some of whom pretended they didn't even know her (not wanting the burial expenses). But one old man accepted the responsibility and gave me permission to bury her on my own land, where so many of us had known and loved her these past 3 years. So the day after she died, we put her in a nice casket, wrapped in traditional bark cloth, and put her into her final earthly resting place, in a corner of my land.
We never know how our actions may cause the Gospel of Jesus to be seen by those around us who are watching our lives. Village people were amazed at how we'd cared for this unloved old woman in her last years. They were also amazed that we'd given her such a very nice burial. Very often in the villages, there will be trouble at funerals by local drunkards and young troublemakers, but we had none of that. A local pastor, Maurice Kigongo, preached the sermon, another pastor, Willy, gave the traditional credits for Nataliya's care and burial, and Pastor David gave her eulogy. A true community effort. And as one church lady walked home that afternoon, she overheard 2 men talking behind her, saying, "Becoming a Christian is our only alternative. We need to get saved now…"
Precious in the sight of the Lord is the death of His saints. Psalm 116:15
Margaret Nelson