Ministry of Margaret Nelson
Uganda, Africa
---
January 7, 2010
Happy New Year
The year 2009 was a year of harvest for our lives and ministries of both SEVO and Christian Bible Study Centre. In the same spirit, we are looking to the New Year of 2010 to be a fruitful year, seeing God expanding our works.
We had hoped to restart New Life Academy as an orphan primary school (it was 50% orphans before) at the beginning of the school year, February 2009. But we decided we were not ready, as we want it to be a fully self-supporting ministry. We have 15,000 pineapples planted on the churchís 4 acres, as well as sunflowers (for oil harvest) and other crops, but we still need to put in maize mill and some other bigger income generating projects. We want to have at least a year of teachersí wages banked before starting the school again.
Early in the year Pastor David and another friend simply known as ďthe ApostleĒ began what developed into 3 all night prayer meetings, at 3 different village churches. A year later they are still going strong, and just this week the members (most of whom attend all 3 prayer meetings every week!) met to evaluate the past year and plan for the next. Weíve seen some dramatic answers to prayer, notably in September when Uganda was rocked with the worst riots in my 10 years here and longer. The prayer groups had been interceding for at least 2 months prior to the riots regarding the increasing political tensions in the country, and we believe this was responsible for the Luweero area not becoming involved in the violence, and that it was stopped when it was.
In February Pastor David Kasule and I attended an inductive Bible study seminar at Calvary Chapel Kampala, which has greatly enriched Davidís preaching. His comment to me was that heíd always wanted to preach better, but didnít know how. Heís now able to ground our church, New Life Centre, even more fully in the knowledge of the Word of God.
In April and May, David, Hannington Sserugga and I attended 3 more seminars. We attended 2 taught by a Kampala ministry called Hope Education Network. We learned about Business Without Regrets and Introduction to Business, both taught straight from the Bible. We learned to see the Bible in a different light, learning new truths from old stories, such as Jesus and the Samaritan woman at the well being an example of a marketing strategy!
In between these 2 seminars, we had the privilege also of attending a pastorsí seminar with Glenn Schwartz of World Mission Associates ( sevo.cbsc@yahoo.com) whose book When Charity Destroys Dignity has been an educational blessing to us and many others regarding preventing or overcoming the dependency syndrome that has crippled Africa and other poor nations.
In turn I have combined much of the materials from these trainings and taught them to our SEVO leadership of about 40 men and women from 8 districts all over Uganda. We had our first quarterly leadership training seminar in July and our second one in October. As a result of these trainings by myself and Hannington, these leaders have put on these seminars themselves, paying not only their own transportation from many points in Uganda, but budgeting and strategizing to pay for the entire seminar costs themselves, including my food and housing while teaching. This is so rare in Uganda weíve never heard of anyone else doing it before.
In July the 3 of us attended a pastors/leadership seminar at Calvary Chapel Kampala and I attended their ladiesí conference at the end of that same week. The unusual thing about all these seminars is that in my 10 years in Uganda all combined, Iíve never attended as many as I did just this one year. It was a new time of learning and growing for all of us!
In August I suffered the misfortune of being in the hospital for 5 days with severe malaria and gastroenteritis, which between illness and recovery time, pretty much wiped out the month. Then in October a new friend, with whom Iíd been emailing several months, Mandy Clarke, with Bigheart Ministries, came for 7 weeks. She spent her first week visiting with me, then attended our SEVO leadership seminar, then spent the rest of her 5 weeks in Bigheart ministries, helping widows obtain income generation businesses. She also adapted the teachings from my SEVO trainings and began sharing them with Bigheart villages.
During the past nearly 7 years Iíve been slowly working to build a house in my village. Iíve lived in 2 rooms of it until May of this year, after God both impressed me to do more building and provided financially for it. Iím happy to report that even though the house is far from completed, Iíve been able to move into the remainder of the house and begin utilizing the other rooms. I have felt that this is in preparation for housing people that God will be bringing to us, and maybe ministry teams as well. Mandy was a forerunner, coming from Northern Ireland.
In early December God changed my plans and impressed me to have the remaining unfinished floors cemented. A day later I got word that Ann Travis, a missionary friend in Uganda for 7 years, was going to move back to the USA, and she wanted to give me most of her furniture. What she said she would give to me was exactly what I needed, and I needed floors to put them on! In addition, sheís giving me her old (but in good condition) Toyota Land Cruiser, answering prayers of several years for a 4 wheel drive vehicle!
Before I end the overview of the year, I must say that in December SEVO received its NGO certificate after a 2Ĺ year struggle! Normally this process takes about 2-4 weeks, so this is a longggggg awaited victory, making it possible for SEVO to grow and develop much more as an officially registered Non-Governmental Organization.
We are looking to a bright and productive New Year. Here are some prayer requests you can join with us in praying for in the coming year:
pray for SEVOís ongoing development and for godly character and achievements in all its leaders, and that many lives and souls will continue to be saved;
pray for the income generation projects to become reality for Christian Bible Study Centre in order to be able to restart New Life Academy in February 2011, and for our outreach to the local communities;
pray for political stability to reign in Uganda as the 2011 elections approach;
pray for ongoing financial provision for completion of my house and for God to bring the right people for ministry;
pray for my need for $4000 to have a knee joint replacement surgery as soon as possible
Wishing you a Happy and Prosperous New Year.
Margaret Nelson
P.S. I thought I would share some pictures I took at Lake Kivu during a trip to Rwanda in December. Also, a picture of me holding the first pineapple harvested from our NLC farm.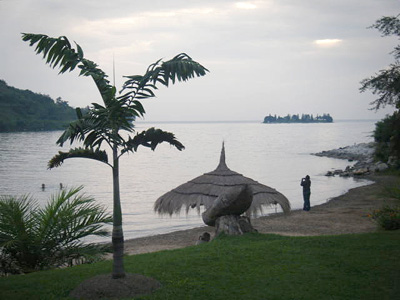 Lake Kivu, Rwanda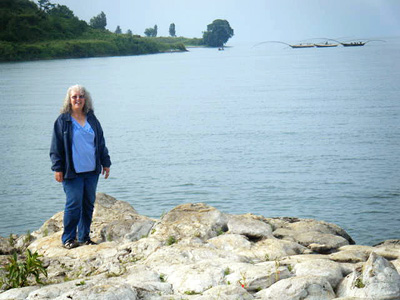 Fishing boats on Lake Kivu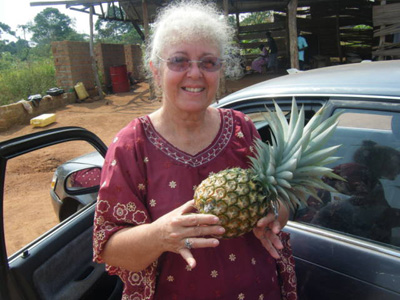 The first pineapple from our NLC farm