Ministry of Margaret Nelson
Uganda, Africa
---
February 8, 2010
Wedding Bells
Christian Bible Study Centre ministries have had a remarkable history. For those of you who've read my newsletters over the years, you know the fairly recent stories of how Pastor David Kasule was deceived by the witchdoctor who sold him the church land. He promised him a flat 3 acres of land, but when the sale was transacted, he'd actually sold him the neighboring 3 acres which was hilly land, unsuitable to our plans. Then those hills became gold when God literally moved them for us. A road construction company bought the clay/gravel those hills contained, then leveled the ground, at no cost to us, and the witchdoctor raged, knowing we'd been paid for that gravel!
Then God brought a brand new road to our church when the government rebuilt the village road to the nearby home of a Member of Parliament.
The latest in the series of remarkable events for Christian Bible Study Centre is the first ever wedding that took place there a week ago. In my last newsletter, I wrote of the overnight prayer groups among 3 village churches, headed up by our New Life Centre Church, which have been meeting this past year. Among the faithful members who pray 3 nights a week was a pastor, Senyonjo Pius, whom Pastor David had led to the Lord about 5 years ago, out of a life of severe alcoholism and AIDS. He then said now he could die because he was right with God. David told him that when you have Jesus, you don't die, you live. His subsequent AIDS tests have all been negative, including premarital testing.
One of the 3 churches praying overnight would occasionally bring visitors from Kampala. About a year ago a young teacher came. Damali Nagawa continued to come, and Pastor Pius fell for her. They decided to marry and they wanted to do it at New Life Centre Church.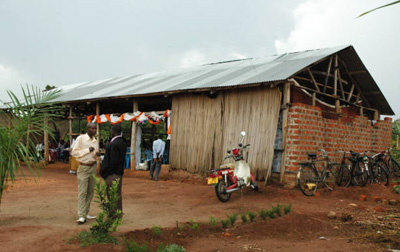 New Life Centre decorated for the wedding
Now New Life Centre Church is a simple biwempe church, a poor village church, with papyrus (biwempe) walls and a dirt floor. Most people despise biwempe churches and the bride's rich family was no exception. They insisted that the wedding be held in Kampala, and Pius said no. He lives in a humble mud house with a thatched roof in the area, David is his pastor, and he is not a pretentious man. Damali stood with him, content to live as her husband lives. The family had a pre-wedding meeting at my house and slighted David after seeing New Life Centre by saying they couldn't do pictures there, they wanted the wedding at the local Anglican cathedral. The bride and groom stood firm, Pius saying, "I'm not marrying a church, I'm marrying my wife, and our wedding will be where we want it."
It was a tough scene, one of the bride's sisters even having flown from London for the wedding! But when the family saw they could not prevail against the young couple, they gave in and reluctantly supported them. A reception was to be held in the nearby town of Luweero at a small guest house.
Anywhere in the world, weddings are expensive. This bride had 24 bridal attendants, and of course the equal number of groom's attendants. Our 3 churches all chipped in and provided all the food for the reception and money to decorate our church. There were 20 expensive cars at our humble biwempe church, and several hundred people! The groom had a small family, the bride a big family, and the majority of attendees were local village people and friends, come to see this amazing wedding! Money and decorations flowed in at the last moment, and the noon wedding occurred slightly before 6 PM, after which the law forbids weddings to take place. Extreme lateness is not uncommon in African events, but it sure tests the mettle of the groom!
Several hundred people attended and feasted at the reception, somewhat less in number only because of darkness and lack of transportation for many. But our churches had brought adequate food for all. The bride's family furnished a spectacular cake, and all the necessary traditional food and drinks were there, some at the last minute. Through it all, incredibly, everyone became very happy. The bride's family was humbled when they realized they'd only been looking at the wedding from their own perspective and position.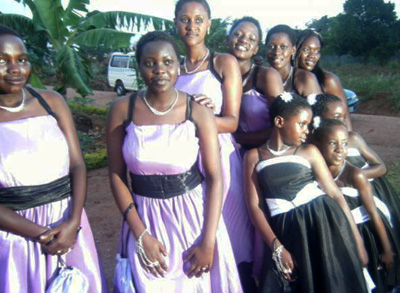 Bridesmaids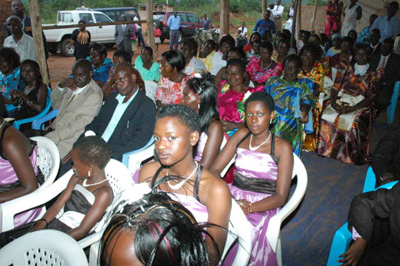 Wedding attendees
In Uganda, because of poverty, most weddings are preceded by circulation of their budgets which will be given to churches and individuals thought to be able to contribute to their expenses. This young couple said they would not do that. They were going to trust God from the beginning, and He provided in every way. The bride's family paid for a professional photographer, and the wedding even made the newspaper! Afterwards, a number of people have called Pastor David, apologizing for their stuffy attitude at the beginning, and commending him and the church and the young couple for sticking to their convictions.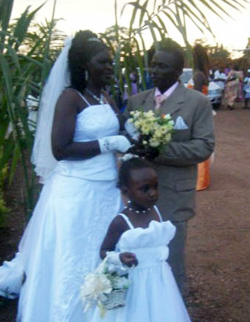 Groom Pastor Pius and bride Damali Nagawa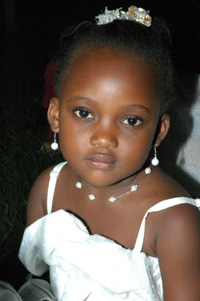 Flower girl
The bride's sister from London arranged the wedding photos in albums, putting a picture of New Life Centre in the front. She plans to tell the story at home about how she saw that while so many sacrifice and hold out to have a wedding in a big, fancy church, that she saw with her own eyes how it's possible to have a beautiful wedding otherwise. People need to stop being so proud and just be serious with Jesus, trusting Him only…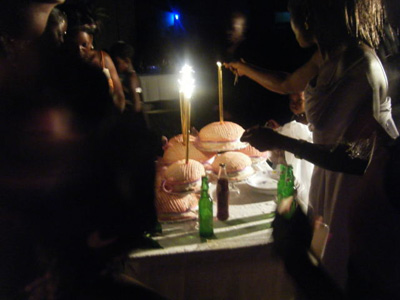 Wedding reception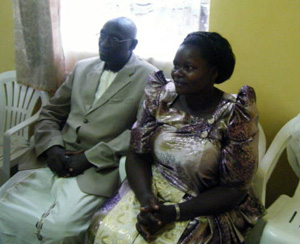 Pastor David and Kate at the wedding
With God, all things are possible!
Margaret Nelson