Ministry of Margaret Nelson
Uganda, Africa
---
September 7, 2010
Healing of a Mute Muslim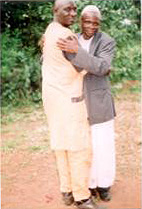 Pastor David and Muslim man healed by prayer.
Two years ago a Muslim imam, a prominent businessman in Luweero suddenly became ill, then fell unconscious. For seven months he remained unconscious; hospitals failed to help and he was taken to multiple witchdoctors, his family seeking a cure. After the seven months he finally began to regain consciousness but was unable to speak. After several more months, his mother put him in the care of a witchdoctor for a year, but again, nothing seemed able to restore his lost speech. Then he gave up totally.
During his lengthy illness, the imam's several Muslim wives all left him. Only a Christian wife stayed with him. It was only when he gave up that his Christian wife was able to convince the family to get a pastor to pray for him. Two pastors went to their home about 2 months ago, in a remote village called Lumonde. These pastors battled powers of darkness for 5 hours, praying over the Muslim man, in the company of his Christian wife. Finally he began to speak just few words.
The younger pastor spoke prophetically to the man. He said that next time they saw him, he would be speaking normally, and there would be a huge celebration to commemorate it. This pastor is no stranger to divine healing, God having healed him of alcoholism and AIDS five or six years ago.
This past week that celebration happened. Many from the business community of Luweero went out to Lumonde; maybe 50 vehicles were there, and hundreds of people. Everyone said it was like a wedding, with feasting, dancing, and singing. The pastors, who of course were having morning church services, kept getting phone calls, "When are you coming?" "Where are you?" so as soon as they could, they drove out to Lumonde to join the celebration.
The man was speaking normally, and shared his testimony of how these pastors had prayed for him and he has been healed! A Christian radio station was there to record the testimony and a professional photographer as well. Many of the people present were Muslims, praising Allah for healing the man. A leader of a dominant Christian religion gave "God and Allah" credit for healing him. But the younger of the 2 pastors, who'd prayed for him, when he was asked to speak, boldly proclaimed the truth that JESUS CHRIST had healed him!
For I am the Lord that heals you. Exodus 15:26
Pray with us that this man will continue on to know Jesus as his Lord and Savior, not just as his healer alone. God is doing a mighty work in and around him, and we are rejoicing with him.
Margaret Nelson