Ministry of Margaret Nelson
Uganda, Africa
---
November 24, 2010
God's Blueprints
When I moved to Uganda in 1999 to work in missions I never dreamed I would need to build my own house. But because I live in a rural area, in the heart of a farming village, I had the option of renting a one-room house with a dirt floor, or building my own place. It was not even an issue of living in a dirt floor house; I could've done that ok. But when you're a missionary and you're going to have visitors from abroad, it's better if you have a place where you can house them!
So while living in temporary housing the first couple of years, I had blueprints drawn up for a house, knowing it would only be by the grace of God that I could have it built. He would have to provide everything for it. Nonetheless, it was so exciting to see "my house" taking the form of a drawing on the blueprints. Initially there was the thrill of seeing the foundation being built with handmade bricks. And then the walls began to go up. I was building African style, a little at a time, as God provided, and eventually I got to move into 2 relatively finished rooms, no indoor plumbing, no electricity.
I lived in those 2 rooms for about 6 years, God providing little by little, walls going up around me, a roof expanding from a temporary one over the 2 rooms to a permanent one over the entire house, porches being added. A year ago, I moved out of my 2 rooms into occupying the entire house, with the addition of outside doors, even though the floors were not finished. But I only had 2 rooms' worth of furniture, so the house was pretty bare. Then last summer, contrary to my own plans, God spoke to me about finishing the floors. So as I planned to buy cement and hire workers to do that, I got a call from a missionary friend who was moving back to the USA; she wanted to give me her furniture! So God provided for filling my empty house.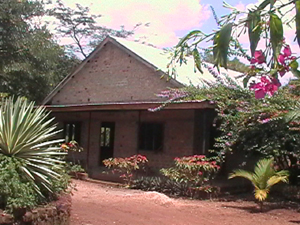 Front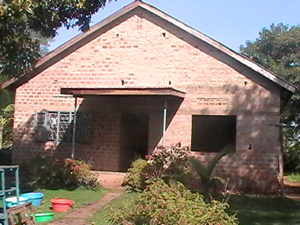 Back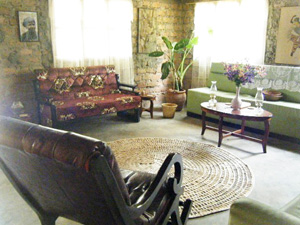 Front room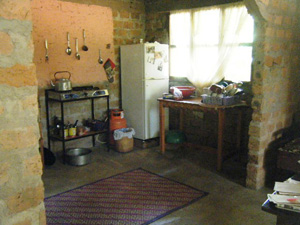 Kitchen
I still have no electricity, no indoor plumbing or running water, but I'm used to it and don't mind using the facilities "out back." I have enjoyed watching my house take from and becoming 3- dimensional. It's been like watching a dream become reality. As exciting as the blueprints were, it's much more exciting to be able to touch walls, sweep floors, and watch the bougainvillea spreading its flood of color across my verandah.
The lessons I've learned through building my own house have been many. But one of the most surprising ones was one that could not have been foreseen, either on paper, or as the house took form. It came from actually living in the house. In the mornings I unlock my 3 doors and usually pocket my keys. But occasionally I would drop them on the coffee table in the living room. Then one day I discovered the order of my keys on my keychain had been changed, and I realized someone had probably taken them off the ring and copied them. Since the 3 door keys were identical, but not interchangeable, no one could know that I had them in a certain order, enabling me to find the right key to the right door, even in the dark. Sure enough, a few weeks later, my house was entered in my absence, proving my theory.
Not only did I learn to always keep my keys pocketed, but I also realized I had a blind spot in my house. Due to a small divider wall between kitchen, dining and living rooms, if I were making coffee or cooking a meal, I could not see into my living room if I had visitors. That is no doubt why someone was able to mess with my keys when I'd dropped them on the coffee table. So the remedy was to have a window put in that wall. It not only looked nice, it gave me visibility into my living room and brought more light into the kitchen, important when there's no electric lighting.
Why am I saying all this? During the months before I left Uganda for my furlough in the USA (October), as I was praying about certain aspects of my time in the USA, I felt that God gave me another blueprint. He spoke a few things to me, but did not give me all the finer details. I felt that He was making that comparison to my house construction, giving me the initial ideas, but telling me to trust Him for the details. And even with my best laid plans for my time here, ministry and relationships, there will be surprises, blind spots, and changes that cannot be foreseen. But the upshot of it all is a house I planned but didn't plan. A furlough I come home for, prepared to work for the Lord on a different field, but God guides me into places I never dreamed of.
As Proverbs says: In his heart a man plans his course but the Lord determines his steps (16: 9). With that we read: Commit to the Lord whatever you do, and your plans will succeed. The Lord works out everything for His own ends…" (16: 3-4) Truly, as we build whatever house God has planned for each of us, we learn that … I trust in You, O Lord; I say, 'You are my God.' My times are in your hands…" (Psalm 31: 14-15a).
And for that, we can be thankful!
Margaret Nelson