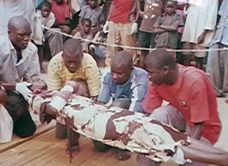 SEVO training in Pallisa on proper carrying of an injured victim
Samaritan Emergency Volunteer Organization
Uganda, Africa
---
SEVO Mission and Goals
MISSION
The story of the Good Samaritan in Luke 10:25-37 is the SEVO volunteer rescue model. SEVO's mission is to provide emergency care of any kind, even at cost to the caregiver, to any person of any race, religion or tribe, at any time, without concern for personal remuneration. To facilitate this, SEVO provides free community health and emergency rescue training to the community, anywhere in Uganda, but with primary focus of serving rural areas which have little access to services.
GOALS
To provide life-saving skills to the community by training volunteers to intervene, assess, stabilize and transport accident and illness victims to the nearest qualified medical facility, and thus decrease the high traffic fatality rate;



To prevent crimes by bystanders and robbery of accident victims;



To prevent mishandling of the wounded victims by untrained people;



Carry out research and disseminate findings to educate local, regional and religious communities on issues concerning emergencies;



To build a strong determined professional organization of volunteers as we emulate the example portayed in the image of the Good Samaritan (Luke 10: 30-34).