New Life Academy
Nakazzi, Uganda
---
Latest NLA News
October 2010
New Life Academy remains closed, but not forgotten. God raised up another orphan school in Luweero which took many of our students, providing them with education they might not have otherwise been able to afford. But many families still beg us to reopen our school! Some kids were absorbed into local schools, and there are a few who are not in school at all. This has given us the chance to evaluate the area for the most destitute of children (the ones not in school), which sometimes is hard to determine in Uganda.
---
March 13, 2008
The first week in December ended the third successful year of New Life Academy. In spite of several difficulties with teachers, including a mass mutiny in September, school ended well, with 200 childen, half of whom were orphans. We had received many promises from parents wanting to send us new children for the 2008 school year. This was our first year for us to have P-7 children write the national Primary Leaving Exam, which, when passed, qualify them to move on up into secondary school. Most of these P-7 children are orphans, and face an uncertain future for finishing secondary school, as the cost of education greatly increases at this point.
We had started 2007 with our one building (a pole and roof shelter) collapsing in a short but violent thunderstorm, in late January. But in July we were able to rebuild that structure, adding to our temporary use of a rented building next door.
About Christmas time we were surprised to see numerous Army soldiers and 5 military tanks moving in on the adjoining property. We quickly learned that this land, which had been the Ugandan President's Luweero State Lodge, was being turned into an Army barracks, and the Military Department was going to buy up all the surrounding land -- including ours!
Pastor David Kasule and 3 other landowners were notified to come for a meeting with President Museveni about this on December 29th, but that meeting did not happen. The following week, the Kenyan political crisis erupted, so the meeting with the President still has not taken place. But meanwhile, Army officials notified Pastor David that he could not start school on our 4 acres in February, the beginning of the new school year, because of this new barracks going in. We knew we would have to relocate the school, but we could not do so until the Military Department paid for our land. They are known to be generous when buying people out like this, but also for being slow to pay.
After some debate on how to handle the situation, our school board met and decided unanimously to close New Life Academy for this coming year, giving the Military Department time to pay for the land. Then we will also have time to search out a new land purchase, have time to erect the buildings we will need for both school and church, and have things in order for the new school year, February 2009.
Looking ahead…
Families of our students are very unhappy about our school closing this year. But we knew if we struggled to keep the school open, not only could we possibly put some of our older girls at risk with the nearby soldiers, but once our land was paid for, the Army is likely to want us off of the land very quickly. To move quickly with 200+ children in tow might approach the impossible! Thus our decision to close New Life Academy for the year.
We will be looking at land for sale, and praying for God to guide us to where we should move our ministry headquarters of New Life Centre Church and New Life Academy. When the purchase of our land is completed, then we will buy that land and build as needed, preparing for the next school year.We will continue to support as many orphans as possible in their educational pursuits this coming year, as God enables us, with donations and hopefully with funds from New Life Drug Store as that business develops.
Margaret Nelson
---
October 28, 2007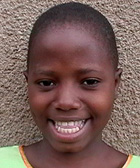 Namugenyi Sarah
On 10/25 some of the students went to the local well to get water for the school. While they were there, Sarah climbed a guava tree to get them some fruit. But disaster struck when Sarah fell about 20' out of the tree, breaking her leg. Mr. Obura, the deputy headmaster sought the help of a nearby man to go find Pastor David Kasule. He went quickly by bicycle about a mile to Luweero to use a pay phone to locate David, who then quickly drove to the scene. David found the teachers, students and neighbors all fearfully gathered around the girl, laying on the ground. Thanks to SEVO training, he quickly assessed, due to one leg being shorter than the other, that her femur (thigh) was indeed broken. He then called me, knowing that Hannington Sseruga was doing some work at my place, and Hannington walked out to the nearest road, caught a motorcycle ride, and went quickly to the scene.
Hannington engaged the bystanders in the rescue, sending some to get branches for splints, and rags to pad them with. He then straightened Sarah's leg, splinted her whole body, encouraging her the whole time. She initially feared because he was wrapping her "like a corpse," because when there is not enough money to have a body transported in a casket or in a vehicle, a body will be splinted, wrapped, and placed crosswise on the back of a motorcycle. He explained to her how her whole body needed splinting to support that big thigh bone.
Sarah and her little brothers attend New Life Academy free of charge, being considered orphans. They have a father who has buried 2 wives, and as in so many such cases, it's only a matter of time until the father will also get sick and die. He is a polygamist and is currently living with a very young wife, who, unfortunately, is the classic wicked stepmother. This often happens in polygamous marriages because the co-wives are so jealous of each other and each other's children, so the worst fate for a child is to have its mother die and be raised by a hateful, jealous stepmother. And this father is a drunkard who does not care what happens to his children.
When someone is hospitalized, a relative must go with them to do their non-medical care, wash their clothes, cook for them. They must also take their own bedding, clothing and food. Mr. Obura and one of our new teachers traveled with Pastor David to take Sarah to the hospital, first stopping by her home to pick up her supplies. Initially the father was avoiding being found, not wanting the financial responsibility that was facing him. The stepmother gave David a filthy blanket and a smelly bag of "clothing," that David threw away as soon as he got out of sight. The father was found, refused to pay for gas to transport Sarah the 15 miles to a good private hospital. Most families will ask for the victim to be transported to the closer government hospital facility that is "free," but we prefer to take them to the other one for better care. But this father didn't even want Sarah taken there; he wanted her taken home! He was merely going to get a witchdoctor to "heal" her.
David called me and Hannington, who was now back at my place, to see what to do. We both told him to take her to the hospital anyway, this was a very serious injury, and if the father gave him any trouble, to get the police. So he drove away with Sarah, Mr. Obura and the teacher, and went to the hospital, with no family and no supplies for Sarah. Sarah was scared about staying alone at the hospital, but David hired Nnalongo, the same woman we've used before to care for patients without family. Nnalongo will care for all her needs and cook for her, as long as she's in the hospital. They hit it off and Sarah relaxed. Ex-rays confirmed Sarah's fractured femur and she will be in traction for at least 1 month.
Sarah began winning hearts from the onset. First off, when Mr. Obura saw Sarah's living conditions at home, she explained to him that this is why some of the kids come to school dirty. So when he punishes them, he needs to know that some of them cannot help it. The man nearly cried. Even while in great pain Sarah was more concerned about her schooling, especially as the school year ends and final exams are taken in late November or early December. If she cannot take/pass those exams, she will lose the whole year of school. (Mr. Obura said later that no matter what, this girl will pass her exams!)
The doctors were impressed with her, speaking English and worrying about school. Of course we will see that she gets her school work to do while she's there. The nurses were tussling over who would push her stretcher. David had spent his only money on gas for the car, so Nalongo lent him some to get Sarah's ex-rays and admission done. We later found clothing and bedding for her.
The next day, Sarah's father showed up for about 15 minutes, raging around the hospital, ridiculing everything being done for Sarah, and demanding to take her home so the witchdoctor could treat her. He swore the hospital would not get one shilling out of him. After making a total fool out of himself, and embarrassing Sarah, he left, and I doubt we'll see him there again.
Fortunately, hospital costs, even in private hospitals, does not cost very much in Uganda. This is why we can intervene in such cases, and take the responsibility for such victims. It is such situations that contributions are helping with. Sarah will have the best of care and will do her school work and exams. Of course upon her release, her home conditions will continue, but until we can do better, New Life Academy will continue to care for such children and give them dignity a day at a time, while they're at school. I believe that not only our new teachers, but the community itself, saw firsthand the spirit of this ministry, and the love and care that Pastor David has for these orphans.
Margaret
---
October 15, 2007
The current newsletter (October 15th, 2007) describes the challenges we have been facing in recent weeks to replace some teachers who left. We are gradually recovering from the damage this did and have discovered that in some ways, these hardships have turned out to be blessings.
---
July 2007
The pickup that Pastor David Kasule was using as a "school bus" to bring children to school daily broke down for its last time. He decided rather than sinking more money into it, he would sell it and invest the money into the needed building. A pickup could be hired for less than what it had been costing to keep his truck running and fueled. He had 5 or 6 buyers dickering over the truck and offering insulting prices for it for several weeks, until one day we had prayer in the church for that and other issues. And God answered in a mighty way! The truck sold the very next day, for David's asking price!
The school is now meeting in the new temporary pole and roof structure, which will soon have wooden walls added.
In New Life Centre Church, I had been teaching about Christian stewardship, and had recently focused on 2 Corinthians 9: 6-15, on sowing and reaping. The community is agricultural, so they quickly grasped the principle of planting wisely with good seed, and selecting the soil carefully. In addition, the issue of not eating planting seed, no matter how "hungry" you get, was discussed, how it can only lead to poverty and famine. Seed must be planted to yield a harvest and bread for eating in due time.
In Uganda the usual way of "managing" money is when someone gets some, many run to him for help, and it is usually shared. But David realized this was a way of eating planting seed and remaining in poverty. So he determined that the money would be used only for putting up a new structure to serve both the school and church. He even gave the money into a friend's care to avoid the temptation of helping out friends and family with it. God blessed that money so that the costs of erecting the temporary structure equaled the sale money exactly!
It quickly became obvious how some people in the church had grasped this teaching, and the ones who hadn't. Some actually left the church when David wouldn't give them what they wanted, and the teachers threatened to strike when he refused to pay them from that money. David's biblical managing of this money that he'd set aside for seed towards development of the school, church and 4 acres of land, was very countercultural. It was actually a more difficult trial for him than last year when he was put in prison! But as a result both the church and the school are now meeting in a much nicer, roomier place, and there is much spiritual growth in the church and relational growth in the teachers.