New Life Academy
Nakazzi, Uganda
---
NLA History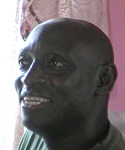 Pastor David Kasule.
Early in 2001 Pastor David Kasule began a tiny church outreach at the request of residents of Nakazzi village, about a mile north of Luweero town. Pastor David was saved at the age of 18, during the civil war that had disrupted his world, causing him to temporarily join a rebel group, then going to Kasese in western Uganda, after the war, pastoring there for 10 years. Then in 1997 he married and brought his bride home to Luweero, where Margaret met him, his wife and 2 babies, in Kyevunze village where he was then pastor. He interpreted for her in her clinic work, and later in her village classes and other settings over the years.
Pastor David's family struggled through the war years, as did all Ugandans, but came through intact with a strong work and education ethic. That was passed down to David, so that even in the midst of his own deep poverty, David would often find coins to give to small children struggling to find school fees to continue their educations. Because of this and his love for children, David found himself increasingly drawn to the plight of orphaned children. Originally the majority of orphans stemmed from the war, but as time went on, the AIDS epidemic took its toll on the adult population. Many children were forced to drop out of school when the father died, leaving an ill and dying wife behind. Extended families would then inherit these children, who would be the least likely then to receive scarce funds for education.
( ... more background on the tragic family situation in Uganda)
By 2002 Pastor David had begun his own orphan project which came to be known as New Life Kids Club. On Saturdays, there would be an all-day meeting at New Life Centre Church, where orphans would be taught Bible lessons, personal hygiene, additional academics, and fed a meal donated by the neighborhood. David worked hard in very creative ways to find ways to finance school fees for these orphans, and at one point was sponsoring several hundred kids without any outside financial help.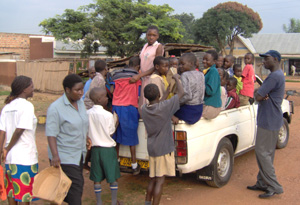 Pastor David Kasule
with the "school bus".
However, after about 2 years it became apparent New Life Kids Club was not working. David was getting exhausted from the constant struggle of working alone to find ways to fund his work with the kids. So he decided to start his own school. School fees from non-orphans could be used to support the school, teachers and orphan education. It would be easier to know the families, and to assure the quality of education. In Uganda, the school year runs from February through early December. In February 2005 New Life Academy was birthed, and with the financial assistance of New Life Center Foursquare Church in Everett, WA, the school developed over the following 2 years. It was the first school in the Luweero area to provide transportation for its students. The GOAL was to have high standards in every department of the school, from teachers to the education of even the tiniest student. There have been many struggles but a good reputation has been established, with NLA being recognized as a school of quality education in the community.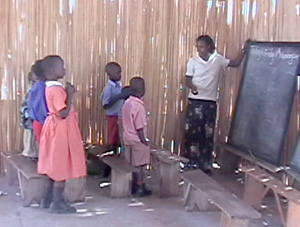 The first class of New Life Academy.
NLA started with preschool through P-5 (5th grade), has added another grade each year, and is up to P-7 in 2007. After P-7 children move on to secondary school. As of the end of the 2nd school year, December 2006, NLA had had 210 students enrolled, with 198 writing final exams in December. Of those students, 51% were orphans, receiving free education. From February 2007 the school has managed to operate without outside funding (barely), and in spite of raising the cost of school fees accordingly to the paying students, enrollment has remained stable.
When we had our first year, only 25% passed their exams. Many schools in Uganda are owned by people who are only interested in using them for money-making purposes. So instead of paying their teachers properly, they invest the money from school fees into bigger buildings to get more children who pay more money, and so on. After so long, the teachers either quit and seek a better school or they lose heart and quit teaching, or both. To cover their non-performance, the schools help the children cheat on their standardized exams so they can pass, which makes the school look better than it really is. This is why our percentage that passed was so low. We used those test results to place children in the grades they were capable of handling, to which most parents were agreeable when the reasoning was explained to them. The NLA school year of 2006 saw 198 children writing final exams at the end of the school year out of 210 who started school. Of these children, about 75% passed final exams. The failures have mainly been due to the newly enrolled students who come from the poor backgrounds and haven't yet had the benefit of NLA schooling.
All children write standardized exams at the end of each term and at the end of the school year, but the P7 kids must write a comprehensive exam for all of primary school and pass it in order to be accepted into secondary school. Eventualy we want a secondary school too, but at this point we cannot expand into that yet. (Up until this year we've added 1 grade level every year NLA has operated.
Thanks to a donation from the estate of Lucy Lyons, Yakima, Washington, New Life Academy was able to construct a pole and roof building on land that had been purchased in Nakazzi by donations from New Life Center Foursquare Church in Everett, WA. The building process was delayed halfway through for over a year due to local government corruption halting construction, ("men on rafters") the delay causing both termite and exposure damage, and increased building expenses. But finally victory was achieved, the building was completed, and both the church and school moved out of their rented facility onto their own property and building. Rejoicing was great! But due to the damage sustained to the partially constructed building, in January 2007, during a violent thunderstorm, the building collapsed. Again, in the midst of sorrow, there was rejoicing that the storm happened in the late afternoon when no one was using or taking shelter in the building when it collapsed. There had been prayers in the church the night before, with special attention to the concerns for the building, so prayers had been heard.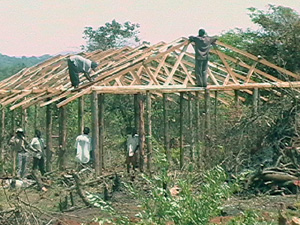 Construction of New Life Academy.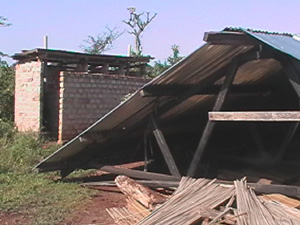 NLA building collapsed by storm.
Using salvaged material from the original building, some material donated by church members, and cash from tithing and the sale of Pastor David's pickup, a new, temporary building was constructed. The long term plan is to build three brick buildings for the school.
The drawing below shows the original plan for use of the 4 acre site. Since this was drawn up, it has been decided that no students will be boarded at the school, and the area at the right in the drawing will most likely be used for income generating projects, such as the grinding mill ... God willing!

Original plan for the New Life Academy site.