New Life Centre Church
Nakazzi, Uganda
---
Latest NLCC News
October 2010
Severe riots rocked Uganda in September 2009 as the country moved towards elections in early 2011. A longstanding feud between the Baganda tribe and the government erupted when the Kabaka (tribal king) was forbidden by government security to visit a certain area on a political mission. The capitol of Kampala literally went up in flames as strategic bonfires were lit in intersections to block traffic, and people of certain tribes were beaten, women raped, and people killed as wanton violence took the city. Baganda radio stations quickly fueled the violent behavior with hate talk, and were shut down by the government. Rioting quickly spread across the nation, causing a virtual shut-down of stores, travel, and activities.
Our area of Luweero is known for its fighters, and especially the Kampala area awaited the arrival of Luweero people to join and fuel the violence. However, our overnight prayer groups had been praying and interceding for the nation and the increasing tensions for over 2 months prior to this. God heard those prayers, and Luweero never got involved in the riots. Even the town of Luweero itself never closed up shops, nor did riots affect our area. We praised God for His intervention, and know prayers have caused the subsequent peace in the nation since those riots.
New Life Centre Church started a Bible study outreach in the nearby village of Butuntumula which is like a county seat. There are government offices there and a prison, but no church. God has opened doors with the local people and the prison officials due to ministry to the elderly father of one of the head prison officials. He was dying of cancer of the eye, an alcoholic, despised man. But due to ministries to his and his family's needs, he accepted Jesus, his daughter came to understand his condition and to be kind to him, and the man died in peace. New Life Centre Church doubled in size as a result of these ministries.
We began a bible school in August to train our pastors, who are all uneducated men. They are godly men, but have problems due to their lack of learning. However, timing was not quite right and the opening of the school has been postponed until spring 2011, when it will also be open to all who wish to attend. It will be a school based on biblical answers to practical community needs, as well as teaching Bible itself.
---
March 2008
In August Margaret Nelson completed her teachings from Life Ministries Institute. Pastor Kasule then began teaching from the book of Romans, in the verse-by-verse, inductive method used by the Calvary Chapel churches. The response to his teachings has been phenomenal, as people hunger so much for the knowledge of the Word of God. Even associate pastor James Mutebi saw the benefits of this kind of preaching, and when he preaches, he also is teaching from the book of Romans.
On Christmas morning, as members of New Life Centre Church met to worship, they were surprised and shocked to see neighboring property covered with Army soldiers and 5 huge tanks, with gun turrets pointing outwards. It was a strange feeling to be worshiping the Lord with a tank gun pointed almost directly at the church! (I would love to have photos for the website, but we're not allowed to photograph anything to do with the military. Sorry!)
Pastor David Kasule was notified that very day of a meeting scheduled for December 29th, for him and 3 other land owners in the vicinity to meet with Uganda's President Museveni. Gossip was rampant, but the truth quickly became known, that the Military Department was planning to put an Army barracks on the land which previously had been the Luweero State House for the President. So it would be buying up all the surrounding lands, including the 4 acres owned by New Life Centre.
The four property owners called for the meeting with the President have the most developed lands, so will receive the most money for their lands. But the President didn't make it for the meeting on the 29th. That following week, the political upheaval began in Kenya, so to date, there has been no meeting with President Museveni. Pastor Kasule was told by Army officers that we could not start classes at New Life Academy, which meets in the same building as the church (see page for New Life Academy for that update). But we continue to have church meetings as usual, on Sundays and midweek.
---
August 2007
Due to our new connection with Calvary Chapel Kampala, Pastor David has begun inductive teaching the Bible, verse by verse, rather than topical preaching. He's starting with t he book of Romans. The church is loving it, and when he was gone one Sunday, James Mutebi, the associate pastor, picked up where David had left off, teaching from the book of Romans. This is a big step, as most Ugandan pastors do not teach directly from the Word, and don't even study before preaching. David is now using concordances and commentaries and is growing in his own love for the Word of God, as he teaches it to strengthen the church.
October 2007
The community is becoming more aware of NLCC and the blessings associated with a relationship with Christ. For instance, in early September 2007, a girl walked about 2 miles to find New Life Center Church, per specific instructions of her parents. She had suffered from epilepsy for about 4 years, averaging at least 3 seizures a week. She had terrible burn scars on both legs, from falling into the fire. Her family had tried every from of witchcraft and traditional medicine to cure her, but had failed totally. Now they had told her that her only hope for healing was in Jesus, burned all their fetishes, and sent her to New Life Center Church for prayer. We laid hands on her and prayed, and she's not had a seizure since then.
---
July 2007
On Sundays and 3 week nights New Life Centre Church meets in the same building as New Life Academy. The congregation rejoiced when Pastor David Kasule's pickup sold after they'd prayed for that to happen. Margaret had been teaching them about Christian stewardship, sowing and reaping, and by example, Pastor David had decided to sow the money from his truck into the new building. In this teaching, the people had seen the principle of saving seed for planting, that even when they get "hungry," if this seed is eaten rather than planted, it can lead only to poverty and famine. Seed must be planted to yield a harvest and bread for eating in due time.
In Uganda the usual way of "managing" money is when someone gets some, many run to him for help, and it is usually shared. But David realized this was a way of eating planting seed. If he gave away this money, the church would still not have a building. So his sale of the truck became an object lesson for what the church was learning, and it did not come easy. David's biblical managing of this money that he'd set aside for seed towards development of the church, school, and 4 acres of land, was very countercultural, and not an easy thing to accomplish! But as a result the church and school are now meeting in a much nicer, roomier place, and much spiritual growth is taking place.
Now that there is more room in the church, a Sunday School has been started for the many children attending NLCC. When the sermon starts, the kids go up to the rental house, previously being used as the church, and have classrooms. They are developing their own choir and sing weekly.
The first Friday night that the weekly all night of prayer was resumed in the new building, the Pastor was "welcomed" by a large black cobra snake, which was quickly killed, only to be followed by a second, smaller cobra an hour later, which headed towards the praying congregation. It was also killed, and the rest of the night, everyone prayed with one eye open!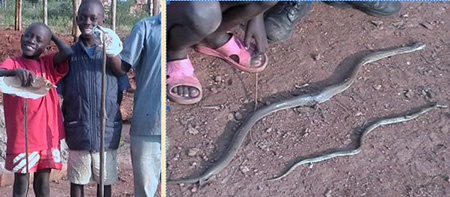 Cobras that attended an NLCC all night prayer service.